UPDATE: This feature is no longer available, the demoxi software is no longer supported. I also am no longer affiliated with txt2day, however I'd be more than happy for you to visit Text Sendr to send your text messages.
If you're a frequent user of txt2day you may have realized a pretty significant change today. Since joining Demoxi, I've been working on making widgets for our identity product. Today, we officially launched my first widget: txt2day text messaging.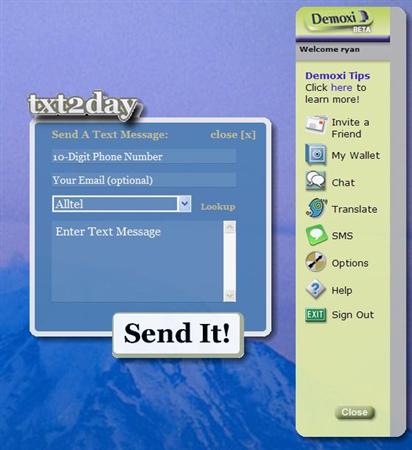 That's right, now you can send txt2day messages right from your desktop – ad free! In addition to txt2day, by downloading Demoxi you'll also get a secure messenger with built in translation, a desktop translation widget, cookie manager, and a neat form filler that remembers your passwords, lets you drag and drop to fill forms, and even automatically generates and remembers secure passwords for you (if you want it to.)
Of course, all of this data is encrypted and stored only on your hard drive!