Has anybody else noticed the prevalence of job spam on some of the major job sites?
Check out this screen shot from doing a PHP Detroit search on HotJobs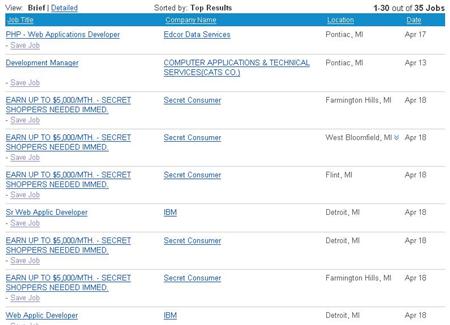 Of the 35 jobs that it returned, 27 of them were that same mystery shopper job. You know, the one where you pay them first then they send you information about being a mystery shopper. I don't think anybody has ever made money off of that job except the person offering it.
Come on Yahoo, clean this crap up.
I haven't noticed nearly as much spam on Monster, and none at all on DICE (of course, compared to monster there are only about 1/10 of the jobs on DICE)
So far I've tried Monster, HotJobs, HiddenNetwork, DICE, computerjobs, and craigslist. Are there any other great sites out there that you guys use?