When I turned 16, the first car I was given was a hand me down 1992 Pontiac Grand Am that my Mom had driven. It ran great, had low mileage, and there was nothing wrong with it – so I bought a Chevy S-10.
After that lease ran out, I had that 1992 Grand Am again. It still ran great and had low mileage (due to sitting in the garage for the last 3 years) – so I bought a Jeep Wrangler.
Fast forward to 2006. I was driving that Jeep Wrangler almost 60 miles / day back and forth to work and bitching about gas prices (why did I buy a car that only gets 17 miles to the gallon on a good day?) when I remembered that Grand Am.
For the past year or so I've been driving the Grand Am to work every day, and saving my Jeep for the weekends. It worked out great!
Anyway, I'm sad to report that the Grand Am seems to have finally met it's match.
A few months ago the heat started going (it still blows very lightly..but it works).
Then the speakers started going.. but I think I fixed them.
A couple days ago I heard a rattling in the trunk and thought nothing of it. Yesterday though, it got really really loud so I decided to take a look: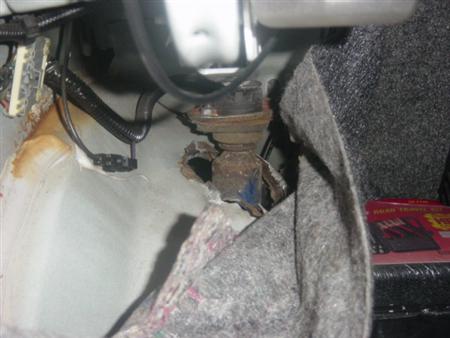 If you can't tell, that's my shock… sticking up through my wheel well and into my trunk.
I'm not sure what it's going to cost, but I'm sure it will cost more than a 1992 Grand Am with 92,000 miles is worth. It's looking like it might be time to donate this car to Mother Waddles and take the tax write off.
I'm just sad to see it go. I've had this car ever since I started driving. Oh the memories.