As family members keep asking me for more Who Dey updates, I keep feeling obliged to provide more and more pictures and such. If you don't regularly read my blog, Who Dey is my new bengal kitten. You can catch up by reading and here, and here.
Ok, on to the new stuff:
Nobody seems to believe me when I say that Who Dey plays fetch, so I decided to get a little bit of proof. Here's a picture of Who Dey bringing me her mouse to throw for her: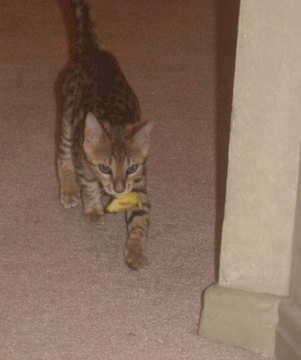 Of course, in today's modern age we all want video… so, here's a couple videos of her fetching. The first one is short so that you can see I actually threw something. The second one is about the longest distance I have in my house. Enjoy:
Apparantley WordPress won't let me embed a video nicely, so you'll just have to view them by clicking the links:
P.S. if anybody knows a good video capture card that has RCA inputs, and is really really cheap, please let me know. I have a pretty old camera, but I'd love to be able to somehow get some videos online.