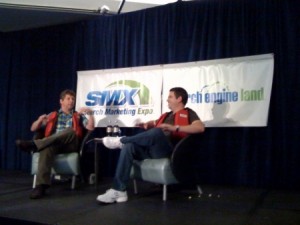 Matt Cutts SMX Keynote starts in 10 minutes. Stay tuned here (and keep refreshing) for live blog coverage.
Firstly, I find it amazing that Matt Cutts has his own set – different than what everybody else uses.
Danny started out with some lifejackets for MayDay and then rejecting the Caffeine free diet coke in favor of some with Caffeine. Cute.
First UP – Caffeine Caffeine is now live! Here's the official Google announcement. Way back when, Google hadn't indexed the web in about 4 months. Cue the Google dance – where they'd pull data centers out of rotation and people got different results based on the data center they went to.
Elections, 9/11 reminded Google that QDF, or freshness matters. in 03 they came up with the Fritz update to switch to incremental updates. Now, we have caffeine. Instead of crawling billions of pages, indexing later, then pushing live – caffeine indexes a document immediately after it crawls it.
50% fresher documents. Easier to annotate. Unlocks a ton of flexibility on the Google side.
Mayday Time.
Matt's team had nothing to do with Mayday. It was an algorithmic change. According to my lunch conversation with Maile Ohye, the goal of Mayday was to make long tail results more useful.
Matt is parroting what Maile said at lunch: How do you look at stuff that's technically not webspam, but it's not very high quality either. Maile called these things "weeds."
If you're affected by MayDay look at your content and see how you can add usefulness, or unique content.
Danny's point was right on – hopefully this hurts mahalo or demand media. He didn't acknowledge it, but it's clear this could be aimed at that crap Calacanis unleashes on the web daily.
Matt refuses to call out a low quality site, but Danny does: it's eHow. I agree, those things suck.
Matt says they're going to look at video sitemaps more. That's good since Bing doesn't.
Webmaster tools is adding "crypto 404s" or "soft 404's" That's where you return a 200 code but the page itself says "not found."
Google is looking at improving the cache. Wouldn't it be great if you could figure out where/how Google pulls your snippet. Danny wants Matt to stop using ODP – however we can all opt of using ODP with a meta tag.
Danny: Google should buy ODP and fix it, then they can be #2 for all results right under wikipedia.
Question Time: (I'm only posting questions that don't bore me)
Mayday is NOT related to google news at all.
HTML5 is also unrelated to caffeine. Having validated code does Not make you rank higher.
Matt just called out a webmasters tools engineer. He has no idea what type of night he's in store for from the mobs here.
Google's approach to paid links is more so just to stop those links from counting.
I'm stealing this from toddmintz: Sculpt abs, not pagerank.
Google has improved it's discovery of finding links within javascript – in many cases including the spam case – but that doesn't mean you should use JS links over static HTML links.
Apparently Chrome is very popular in Belgium – either that or they're sucking up to Google.
Danny Sullivan created Matt Cutts twitter account as a joke then gave it to him. That's how Matt got on twitter. Matt says buzz is similar to twitter in how we all signed up, didn't know what it was for, then started using it. I thought that was wave…..
The crowd got a nice laugh out of the term "Many search engines."
Google is looking at changing rich snippets so that it can happen automagically without webmasters having to apply. This is something I'd really like to see. Timeframe is short, hopefully not months.
Can Google tell if a page is positive or negative? Yes. Do they use sentiment analysis as a signal? Matt doesn't think so.
Google analytics and bounce rate are not used in general search rankings. Let me repeat: Google doesn't use bounce rate.
Danny suggests putting Wikipedia in it's own section separate of rankings and let everybody else rank.