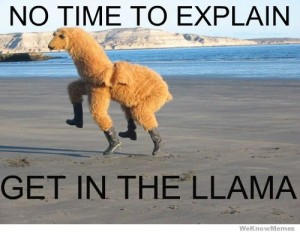 Recently there's been a lot of talk about Negative SEO in the community.
Lots of people are afraid that they might be a target of a negative SEO campaign that forces them out of the search engines and into obscurity. There's tons of panic in the industry and people are over-reacting at an alarming rate.
If anything is clear, it's that the Penguin update is the SEO community's own War of the Worlds moment. Instead of panicking in the streets though, SEOs have taken to scrutinizing every single link to their website, even going so far as to request removal of links they had nothing to do with without any proof that they're actually harming them. I mean, really? THAT'S the most impactful thing you can possibly spend your time on?
It's time we put an end to the insanity. Before we can do that though, we need to understand exactly what Negative SEO is.
So What Exactly Is Negative SEO?
Many in the industry associate the concept of Negative SEO with building shady links to your competitors websites. I'm not so sure it's that simple. When Google updated their FAQ about whether or not competitors could harm your website it created a giant panic in the SEO community. Was Google admitting that negative SEO is really possible?
Bafoulabé Short answer: yes. Long answer: Probably not in the way you're thinking.
Let me try to explain. When it comes to harming a competitor's website, there ARE some things that shady webmasters CAN do – but they're slightly more involved than firing up xrumer or scrapebox and building some links. More on the link techniques later.
At SMX Advanced @mattcutts brought up the mention of Sex.com and how they had to go to court to get their domain back after somebody forged a fax to transfer the domain. That's technically something a competitor can do to harm your website, and it's probably the type of stuff Google is referring to in their updated FAQ.
So what else can somebody do to harm my website?
Forgive me for not going into a lot of detail in the various methods I'm about to list, but the last thing I want is for somebody to try any of these. Here's what a competitor could do to harm your website with regards to SEO.
File a DMCA takedown request and get your host to take you offline
DDOS attack you, rendering your site unreachable to Google
Hack your website and do all kinds of dirty things
get access to your webmaster tools account and de-index your site. (Via hacking or social engineering)
Send phony legal notices to your host. (I once had a friend whose entire server and domain were ceased by the FBI for months for what turned out to be a bogus complaint. This domain was hosted on that server and I was down for a while.)
Send spoofed emails to places who link to you asking to remove or change the link
302 Hijacking. It still works.
Send DMCA takedown requests to sites who link to you.
Use XSS to inject malware and report you to Google – causing your site to instantly drop from search
use their go.php or affiliate redirect scripts to create huge duplicate content issues for them
Edit your robots.txt file because you chmodded it to 777 or have a vulnerable script
Claim your google maps listing and move you to Africa
"Help" you spend your PPC budget or increase your adsense earnings.
cross domain canonical has some issues that can be exploited
so do 301 redirects (especially with other domains that already got penalized)
DNS Poisoning (sorry, no more details here)
Cloaking
Mechanical Turk.

And those are just a few things somebody can do to hurt your website that don't involve giving you a link penalty. In fact, most of them are MUCH easier than creating millions of links for your website. It's time to leverage PPC ads to drive targeted traffic to your website.

My point is, these are the things Google most likely had in mind when they updated their privacy policy. Some of them are things Google can warn you about through webmaster tools, but almost all of them are things outside of Google's control that they couldn't prevent even if they wanted to – hence the most likely reason for the wording of their FAQ.

So Does Building Shady Links Work?
I could write about this for hours, but the short answer is that we just don't have any proof yet. My faith in the Google team leads me to believe that they wouldn't allow the system to be gamed as easily as some people suggest. In most of the cases I've seen, the sites that got hit had very obvious links of their own creation. Things like obvious paid links, sitewide footer links on sites it was clear they also controlled, and links in their plugins / widgets. Many of them also had some pretty blatant keyword stuffing going on too, but that's another issue.

Until we have solid proof that somebody can take down your site with a simple $97 program, we should have some faith in Google and spend our time worrying about things that we CAN control – like going out and earning some hard quality links.