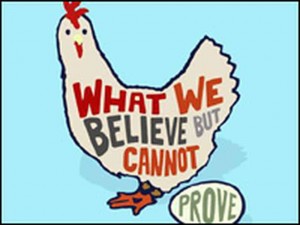 I'm going to channel my inner @alanbleiweiss and rant for a minute about some things I saw over the last few days in the SEO world. I also want to apologize for any spelling mistakes from the start, as my right arm is in a cast and I'm typing this entirely left-handed until I can find an intern. (If you're curious as to how I broke my arm, it was with a softball. there's a video here. )
There's been lots of SEO chatter lately about a recent SEL post called More Proof Google Counts Press Release Links. and I want to address a couple of issues that came up both in this thread and on Twitter.
First point: what works for one small made-up keyword may not scale or be indicative of search as a whole. Scientists see this in the real world when they notice that Newton's laws don't really work at the subatomic level. In SEO algorithms, we have the same phenomenon – and it's covered in depth by many computer science classes. (Note: I have a computer science degree and used to be a software engineer, but I haven't studied too much in the information retrieval field. There's more in depth and profound techniques than the examples I am about to provide.)
A long time ago the Google algorithm was probably just a couple of orders more complex than an SQL statement that says something like "Select * from sites where content like '%term' order by pagerank desc."
It's not that simple anymore. Most people think of the algorithm like a static equation. Something like Pagerank + KeywordInTitle – ExactMatchDomain – Penguin – Panda + linkDiversity-Loadtime. I'm pretty sure it's not.
When I think of the Google Algorithm, (especially with things like Panda and Penguin) I instantly think of a neural network where the algorithm is fed a training set of data and it builds connections to constantly learn and improve what good results are. I'll refrain from talking more about neural nets because that's not my main point.
I also want to talk about the branch of information retrieval within computer science. Most of the basic theories (on which, the more complicated ones are built) in IR talk about dynamic weighting based on the corpus. (Corpus, being latin for body and referring here to all of the sites that Google could possible return for a query.)
Here's an example that talks about one such theory (which uses's everybody's favorite @mattcutts over-reaction from 2 years ago: inverse document frequency)
Basically, what this says is that if every document in the result set has the same term on it, that term becomes less important. That makes sense. The real learning here though, is that the weighting of terms is dynamic based on the result set. If term weights can be dynamic for each result set, why can't anchor text, links, page speed, social signals, or whatever other crazy thing is correlated to rankings? They Can Be!
So let's look at the made up keyword example. In the case of a made up term, the corpus is very very small. In the SEL example, it's also very very small.
Now, in this instance, what should Google do? It has pages that contain that word, but they don't have any traditionally heavily weighted ranking signals. Rather than return no results, the ranking factor weights are changed and the page is returned. That one link actually helps when there's no other factors to consider. get it?
Think of it as kind of a breadth first search for ranking factors. Given a tree of all factors Google knows about, it first looks at the main ones. If they aren't present, it goes further down the tree to the less important ones and keeps traversing the tree until it finds something it can use to sort the documents.
It's like choosing a car. First you decide SUV or Car. Then Brand, Then manual or automatic. Then maybe the color, and finally it's down to the interface of the radio. But what if the entire car lot only had Red Automatic SUVs? That radio interface would be a LOT more important now wouldn't it? Google is doing the same thing.
OK, point number 2. Still with me?
We need to stop analyzing every word @mattcutts says like it's some lost scripture and start paying attention to the meaning of what he says. In this example, Matt was right. Press releases aren't helping your site – because your site is probably going after keywords that exist on other sites, and since there's other sites that means the press release link factor is so far down the tree of factors that it's probably not being used.
Remember when Matt said that Page Speed was a "all else being equal we'll return the faster site" type of factor? That fits perfectly with the tree and dynamic weights I just talked about.
Instead of looking at the big picture, the meaning, and the reasoning behind what Matt says, we get too caught up on the literal definitions. It's the equivalent of thinking David and Goliath is a story about how there are giants in the world rather than a story about how man's use of technology helps him overcome challenges and sets him apart from beasts. We keep taking the wrong message because we're too literal.
That's all I want to say. Feel free to leave feedback in the comments.